Take home message: even at the current exchange rates, eating out in Tuscany can be significantly cheaper than back home. Read on.

Breakfast: a great many Italians, especially those heading off to work, stop either at their local bar or at their favorite bar near work for a cappuccino and a pastry. Note that coffee and a pastry will cost a lot less standing at the bar than sitting down at a table. That's breakfast. For tourists, some hotels offer a cooked breakfast but by far the majority offer a buffet of some kind. Many also provide bread because that's what tourists ask for, but Tuscan bread, whether it's toasted or not, is not meant for butter and jam. We recommend when in doubt, to do what the natives do. A coffee currently costs about € 1.25 standing at a bar the clientele of which are mostly local (And as much as € 7.00 if you sit down outside a bar located in front of a major tourist attraction - unless people watching is your hobby, take your coffee standing at the bar.). Note that if you will take a coffee and/or a pastry standing at the bar, you should pay at the cash register BEFORE going with your receipt to the pastry counter and then the coffee counter. A chocolate-filled croissant costs €1.00. The days of chasing it down with a glass of grappa are more or less gone! Read here about coffee in Italy.
A brief note on cover charges, service charges and tips in Italy
Cover charge (Pane e coperto) - this is a fixed charge per head which shouldn't be more than €1.50 or possibly €2.00 per person. It pays for the bread and "table cloth" (table setting). It's a fair charge because it's a fixed amount so that those who take a snack and those who eat a full dinner pay the same. Essentially, setting and cleaning the table costs the same for both. This is a legal charge in Tuscany but apparently not in Lazio (Rome), for example.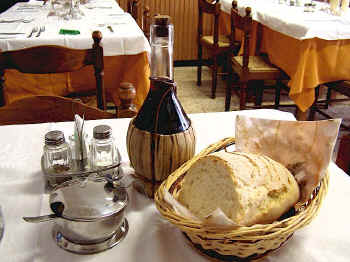 Pane ed olio - bread and olive oil - your cover charge pays for this.
Service charge (Servizio) - this is a percentage and is effectively a mandatory tip. Factor that into your decision on whether the prices suit you or not. It's usually 10% or 12.5%. Top tourist locations sometimes charge as much as 20%. Local eateries usually charge no servizio at all.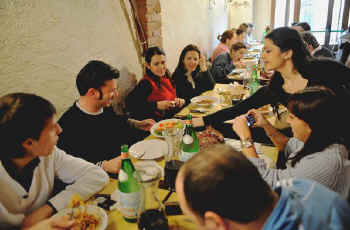 Servizio - usually added to the bill
Tipping - it is NOT the custom to leave a tip in Italy, whether a servizio was added to your bill or not. Waiters are paid proper wages, get holiday pay, health care, pension etc. They do not depend on tips to live or to do their job properly. In small places, most of the staff are members of the owner's family. If you wish, you can round up your bill by a euro or two if the waiter takes the payment. Obviously, if you take your bill to the cash register and pay, there's no rounding up.

Water comes by the bottle, still (naturale) or sparkling (frizzante), and you pay for this. If you don't want it, don't order it. In theory you can ask for tap water (acqua dal rubinetto) but since a 1.5 liter bottle of mineral water costs €1.50 or €2.00 and tastes a lot better, there's not much point.
If you're planning to stay in the Tuscan countryside, there are a great many Bed and Breakfast accommodations offering an equally great range of breakfasts. Be sure to ask if you have special wishes, but in general a country B&B will do a good, Italian-style breakfast unless instructed otherwise. If you're staying in a hotel and don't plan to eat breakfast there, you might be able to get a cheaper rate by specifying that when you check in.

Lunch: Italians eat lunch starting at 1pm and most restaurants are not ready to serve a sit-down lunch before that time. A restaurant lunch is usually a major meal, especially on Saturdays and holidays. The more common alternative is a sandwich (panino), made fresh according to your instructions in a paninoteca. A really good roast pork sandwich (with fresh tomatoes, salad of some kind, green sauce) should cost € 2.50 to € 4. A wide range of cold cuts, cheeses (mostly pecorino), fruit and, for those who have rented an apartment, ready-to-go cooked food is readily available in supermarkets and innumerable small food outlets. Note that these latter sometimes close from about 1 pm to 4 pm so buy your lunch materials before 1 pm.

Dinner: This is usually the main meal of the day and at home starts at 8.00 pm on the dot. Again, most restaurants will not be ready to serve dinner until 7.30 pm at the earliest. A full scale dinner consists of a plate of appetisers (antipasti such as crostini and/or salumi), a pasta course and then a main course (secondo). The constituents of the main course are usually ordered separately, meaning that you will choose the kind of meat or fish dish you want and then the accompaniments (contorni) such as sliced tomatoes, fried potatoes, beans, artichokes etc. Of course, all of these arrive on separate plates so you can order a selection suitable for sharing among your whole group. Similarly, if you order a Florentine steak (bistecca alla fiorentina), you should select a size to match the number of people who will share it. The steak will arrive on its own plate already cut into strips. Steak and also sometimes fish are priced per etto (per 100 grams) not per serving. You then finish up with a dessert and a coffee (never a cappuccino after dinner) and maybe a vin santo or a grappa. You order water and wine to go with the entire meal. Note that the open house wine, ordered by the half or full litre carafe will usually be very good and very inexpensive.
You do not have to order all courses. A great many people are satisfied with an antipasto and a pasta course plus a coffee, or some other lesser combination. A group of four can order an antipasto for two as part of their meal - this is common practice. A cover charge will be added to the bill (this is a fixed sum that pays for the bread and table setting) and nowadays the service charge is also often added. Tipping is therefore neither required nor expected. Often you can pick up your bill, take it to the cashier and pay there.
What will a restaurant meal cost in Tuscany?
The variables for "normal" restaurants (meaning those without gourmet pretentions) are as follows:
Mostly local clientele or mostly tourists - usually a place packed with locals will be a better deal in terms of both price and taste. There are still fixed price offers in densely touristed zones where you know exactly what courses you are getting. However, quality and to a lesser extent quantity will be a matter of chance. Fixed price places are generally to be avoided for dinner unless price is the overwhelming factor. Restaurants recommended by guide books should be double checked on web sites for current customer reviews. In not a few cases, some of these recommendations are living on their past glory.


Grand piazza or back street - obviously, a plush restaurant opening onto the main avenue or a famous piazza is likely to have high prices, while a trattoria a block or two away or out in the suburbs will offer a much better deal for essentially the same or better food.


Tourist city or country town - costs and the market allow higher prices in the centres of art cities like Florence and even in some smaller but touristy places such as Montalcino and San Gimignano. Restaurants in less frequented country towns and especially villages usually offer very good value for money.


Town or country - the Tuscan countryside is dotted with rural restaurants which are almost without exception excellent places to eat for the simple reason that they rely heavily on a local clientele. If you have the choice, a Tuscan country restaurant is the place to eat dinner. (Yet another reason to stay in the country and go into the cities by day just for the art and architecture.)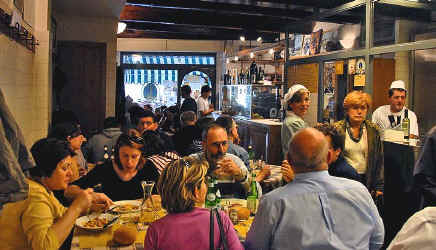 Trattoria in Florence
Here we reproduce, partly translated, two menus from village restaurants in the Chianti Classico area between Florence and Sienna. The food served at these restaurants is excellent, they both have outside terraces and the prices are representative of village and country restaurants. (Note that truffles - tartufi - and hence truffle dishes are expensive.) In other words, prices within the variables listed above will be similar to one another, while the cookery and service varies. Ask local people for tips on the best places in the area.
---
Antipasti

Primi piatti

Secondi piatti

Contorni

Selection of salumi €11.00

Large plate of cheese with jam €12.00

Plate of pecorino with honey €8.00

Pickled artichokes €8.00

Tomino cheese with fresh truffles €10.00

Creamy mozzarella with fresh truffles €10.00

Tuscan chicken liver crostini €5.00

Tomato bruschetta €5.00

Prosciutto and melon €9.00

Marinated lard €7.00

Taglierini with fresh truffles €15.00

Pappardelle with wild boar sauce €9.50

Fresh pasta

Ravioli filled with fresh truffle and mushrooms €16.50

Ravioli filled with ricotta and lemon, with gorgonzola sauce and walnuts €10.00

Short pasta with truffle sauce and sausage €10.00

Gnocchi and tomato sauce €9.00

Wild boar stew €13.00

Stewed beef with black peppers €11.00

Scrambled eggs with fresh truffles €12.00

Bocconcini di pollo €13.00

Charcoal grilled

Sliced beef with fresh truffles €22.00

Sliced beef with balsamic vinegar €18.00

Sliced beef with rosemary and green peppers €18.00

Sliced beef with lard €18.00

Florentine beefsteak €4.50 per etto

Fagioli cannellini (white beans) €5.00

Grilled vegetables €5.00

Mixed or green salad €5.00

Large salad €8.00

Dolce (Desserts)

All desserts cost €5.00

Cover charge €2.00
---
Antipasti

Primi piatti

Secondi piatti

Contorni

Toast with olives, garlic and Tuscan olive oil €5.00

Tomato bruschetta €5.00

Toast with lard €5.00

Wild boar salamino €6.00

Tuscan bacon with fennel seeds €5.00

Tuscan salami with fennel seeds €8.00

Selection of salumi €8.00

Mixed crostini €5.00

Prosciutto with melon €10.00

A big selection of pecorino cheese, ham, salami, crostini for 2 persons €20.00

Tuscan ham, salami and crostini €10.00

Mozzarella and tomatoes €7.00

A selection of vegetables preserved in olive oil €5.00

Spaghetti with beef sauce €8.50

Spaghetti with wild boar sauce €11.00

Spaghetti alla pomarola €7.00

Ribollita (bread, bean, carrot and chard soup) €8.50

Panzanella (Tuscan bread salad with cucumber, onion, tomato and basil) €6.50

Salad with tuna, beans, tomato and onions €8.00

Charcoal grilled

Veal steak €4.00 per etto. (The average size is 3-4 etti.)

Pork steak €10.00

Pork ribs €10.00

Pork sausages €9.00

Florentine beefsteak (genuine Chianina) €4.30 per etto
(For 2 persons, average size 8.5-11.5 etti.)

Seasonal vegetables €5.00

Fagioli cannellini (white beans) €5.00

Mixed salad €5.00

Dolce (Desserts)

Almond biscuits with vinsanto €5.00

Cake €5.00

Pecorino cheese with honey and vinsanto €6.00

Pecorino cheese with pears, fig jam and nuts €6.00

Fresh fruit €4.00

Caffθ Moka €1.50
---
Restaurants near Greve in Chianti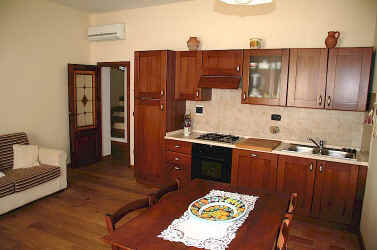 Last but not least, don't forget that you can stay in a self-catering vacation apartment or farmhouse for much less than the price of staying in a hotel. Even if you don't want to cook, you can buy ready prepared hot and cold eats at any supermarket and at innumerable speciality food shops. All supermarkets offer a great selection of local wines at excellent prices.